Fateh Singh Rathore Conservation Awards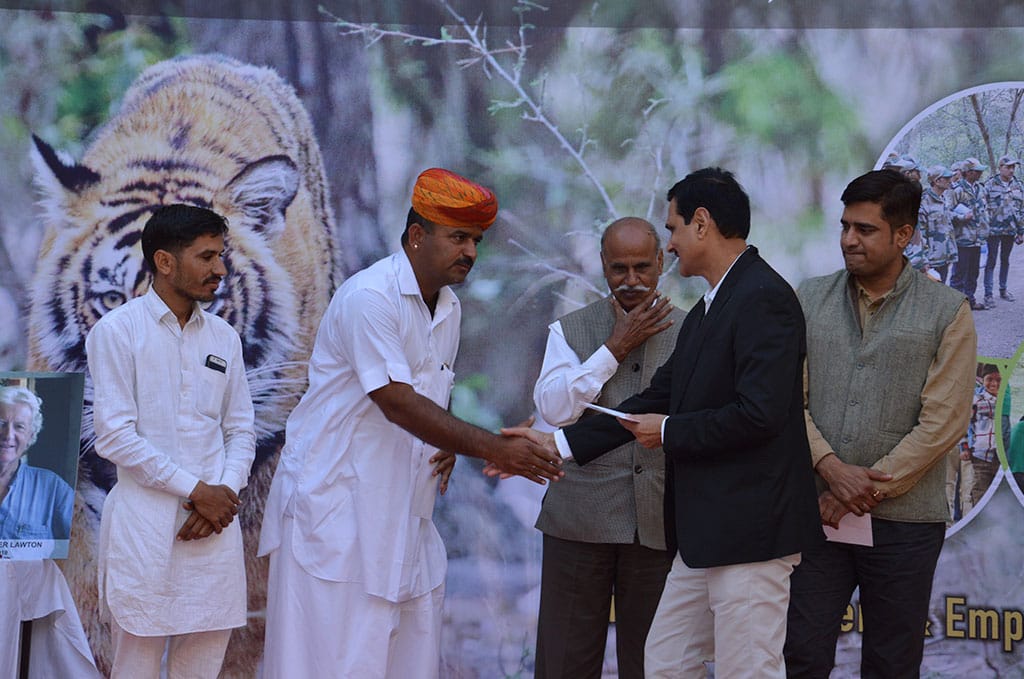 Every campaign, every action, every step forward towards the protection of Ranthambore  requires grace and the power of will . Tiger Watch felt there was a need to recognize these monumental efforts and thus the Fateh Singh Rathore Memorial Conservation Award came into being.
The Late Shri. Fateh Singh Rathore, worked all of his life to establish the Ranthambhore National Park, as a world-renowned protected area for tigers. He always took the initiative when it came to acknowledging the contributions of local individuals towards the park. The Conservation Award became a way to acknowledge Fatehji's legacy.
Tiger Watch awards individuals for their positive contributions towards the wildlife conservation. Awardees are selected from the Forest Department as well as local communities, who have done exemplary work over a year and cash prizes are awarded to the deserving winners. The award ceremony is hosted annually on 1st March, in honor of the death anniversary of Fatehji. The Chief Guest and other dignitaries' hand over the awards and Tiger Watch commemorate the occasion in the hope that Fatehji's work continues to inspire all those around us.
The Conservation Award programme acts as an incentive for people to work sincerely and bring about a positive change. The award not only sends a broader message of goodwill but the recipient feels proud and recognized for their achievement. 
Tiger Watch has awarded 150 individuals in the last 10-11 years.Every year, 6 conservation awards with mementos and cheques (INR 51000 x 1, INR 20,000 x1, and INR 10,000 x 4) have been given to forest or police officials. The selection of the awardees is purely driven by the consensus of Field Director (CF) and Deputy Director (DCF) of the tiger reserve's division.  Tiger Watch also gives 15 certificate awards with a token cash money (INR 5000) to members of the public that are nominated by the Forest Department, for their outstanding contribution towards conservation.
Address: Maa Farm,
Ranthambhore Road, Post Khilchipur,
District Sawai Madhopur,
322 001, Rajasthan,
INDIA
(+91) 90015 07777