The Dieter & Liz Gutmann Tiger Conservation Program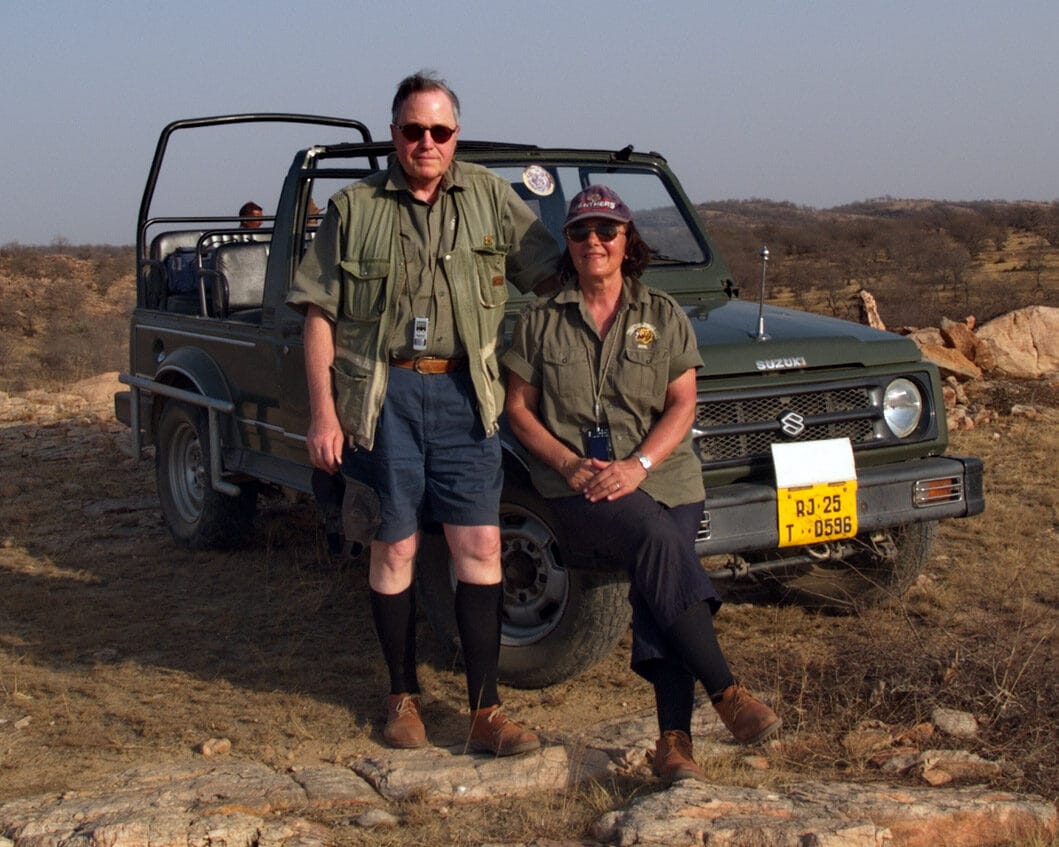 Sh. Dieter Gutmann and Smt. Liz Gutmann have generously supported Tiger Watch led local community engagement in the Ranthambhore Tiger Reserve for the last 15 years, especially through our rehabilitation efforts of members of the Moghiya traditional hunting tribe. The result was there for all to see, the tiger population rebounded to the highest it has ever been recorded, and today tigers are beginning to naturally repopulate areas outside Ranthambhore Tiger Reserve such as in Dholpur district. The rebound was such that Tiger Watch also initiated a new program called the Village Wildlife Volunteers which engages pastoral youth living on the peripheries of Ranthambhore in monitoring the burgeoning number of tigers moving outside the protected areas. They soon became a formidable team which also mitigated human-wildlife conflict and developed significant antipoaching credentials in their own right.
However, while this is a marked improvement, there were still some gaps that required addressing and the Gutmanns have chosen to formulate and support a comprehensive umbrella program that rests on four pillars.
1. Vocational Training for the Moghiya Traditional Hunting Tribe
While the Moghiya Education Program brings about change through education for the next generation of the tribe, vocational training for older members of the tribe is necessary to wean the community off of poaching as much as possible. The Gutmanns' experience in providing a pension for the widow of Jugraj Moghiya, a reformed tiger poacher has informed this endeavour.
2. Conservation Awareness Program
There is an urgent need to sensitize children of communities that will have an anthropogenic impact on Ranthambhore Tiger Reserve. Connecting the aforesaid children to their location and context in a meaningful manner and preparing them to act and participate in future conservation interventions is of the utmost importance for the long-term well-being of the Ranthambhore Tiger Reserve.
This is the core pillar of the Dieter & Liz Gutmann Tiger Conservation Program, and the scope includes 300 villages in and around the Ranthambhore Tiger Reserve. The methodology here entails the identification of high and low priority villages in terms of anthropogenic pressure, the development of specialized awareness material, and the training of schoolteachers to impart conservation relevant education.
This large-scale intervention will be executed by a mobile team of 7 teachers led by a coordinator.
3. Science & Research
Tiger Watch has published over 50 pioneering research studies which have sourced information from previously inaccessible landscapes in the greater Ranthambhore landscape and forged new horizons in wildlife conservation research. Research has focused on endangered and vulnerable species such as the caracal (Caracal caracal), gharial (Gavialis gangeticus) and grey wolf (Canis lupus pallipes).
Such research is of vital importance for it has not only informed our own conservation interventions, but is also policy relevant both locally and nationally, as we saw with the change of the caracal's status in India to that of an endangered species in 2021 by the Ministry of Environment, Forests and Climate Change (Government of India) following the publication of our study on distribution (Not be confused with the International Union for Conservation of Nature's (IUCN) status for the caracal).
4. Capacity Building for Law Enforcement
Tiger Watch also plays a role in building the capacity of agencies of both the state and central governments in key areas. Our long history of anti-poaching enables us to provide critical knowledge on identifying contraband from the illegal wildlife trade, the collection of evidence, as well as a backgrounder on traditional hunting tribes and trading communities such as the Moghiyas, for which there are no readily available resources for law enforcement officers. So far, four principal law enforcement agencies and police detectives from 8 states in India have benefitted from this exercise. The continuation of such a public-private initiative is necessary to provide a robust response to the illegal wildlife trade.
Program Update                                     Friday, July 15

2022
Our wildlife conservation awareness efforts first started under the auspices of the Bagh Mitra School Program in 2020. Infrastructural support such as libraries were built in 20 schools on the peripheries of Ranthambhore Tiger Reserve. Select wildlife conservation friendly literature in Hindi was also provided by Ektara India. What seemed like a promising start was unfortunately interrupted as a result of COVID-19 but has now fortunately not just been renewed, but also expanded under the auspices of the Dieter & Liz Gutmann Tiger Conservation Program.
The program is now gearing up to make a tangible impact in 40 key villages to start with:
4 teachers (all either graduates or postgraduates) have been hired.
The 4 teachers will cover 40 villages bordering the Ranthambhore National Park and Sawai Mansingh Wildlife Sanctuary. These are areas with high densities of tigers and a good place for the program to start. These villages are not benefitting from any other wildlife conservation education programs.
A 1-month training period for the teachers commenced on Monday, July 4th
Educational material in Hindi is currently being prepared and will be put through a trial period in the schools starting in August, 2022. Following which, this material will be available for all to download on this webpage.
Teacher training with Dr. Dharmendra Khandal on Monday, July 4th 2022.
Address: Maa Farm,
Ranthambhore Road, Post Khilchipur,
District Sawai Madhopur,
322 001, Rajasthan,
INDIA
(+91) 90015 07777